With their record 6th Superbowl win the men in gold and black are without doubt the greatest NFL football team ever. Its Steelers Nation for good.
My hat is off to the whole organization.
A huge round of applause goes to James Harrison for what I'm calling "The Immaculate Interception". For those not in the know you can go look up "The Immaculate Reception".
For a great 15 photos of his 100 yard interception run see this link.
We will always remember Santonio Holmes for all his great catches during the game and of course the most important game winning one: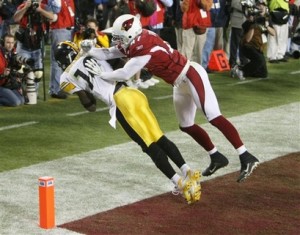 This was a great image I thought I'd throw in: